Follow these steps to log in to your Embark account:
Log in to your personal account at

my.embarkvet.com/login

.
Use the same email address that receives communication about the status of your results. Or sign in with Google or Facebook Single Sign-On if that's how you created your account.
Select the SIGN IN button. 
If you forget your password, use the "

Forgot password

?" link.
Once logged in, you will be taken to your home page .
You may refer to the picture below.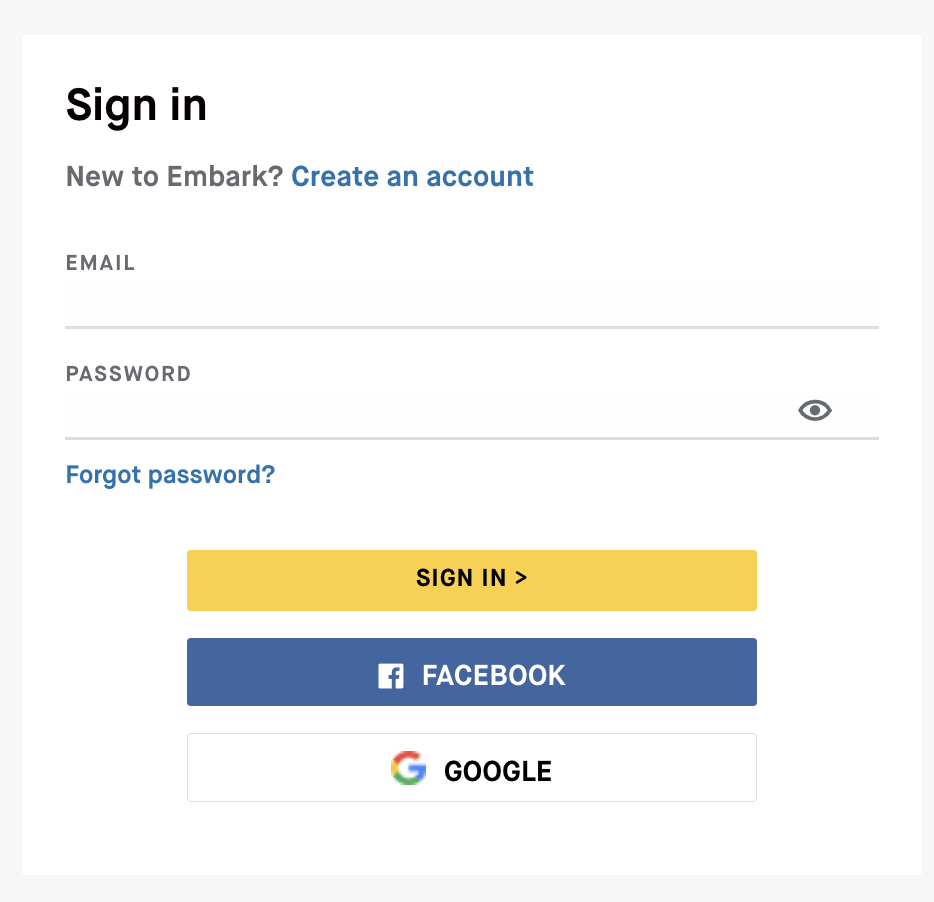 You can also navigate to the login page from embarkvet.com:
If you are on

embarkvet.com

, select SIGN IN on the top right of any page to reach your login screen.
From a mobile device on

embarkvet.com

, select the hamburger icon on the top right (the three parallel lines) to reveal the SIGN IN link.
Are you still having trouble, or not seeing something that you'd expect to see?
Most often, when this happens, it's because you may have multiple accounts under different email addresses or are using an email address that you didn't use when originally activating your test. We recommend double-checking which email address is receiving account and swab-related updates from Embark; this email is the one tied to your MyEmbark account (this can be different than the email used to place an order!) and is the one you can log in with.
If you are still having trouble, please contact us . Please let us know what device and what browser you're using, and when possible, screenshot what you are seeing so that we can help troubleshoot.
Have questions? Your MyEmbark account includes information about your dog's sample status, your dog's results, and many other helpful resources. Log in to your account here! 
Related articles