In This Article:
What is Matchmaker?

Accessing Matchmaker

Information Shared in Matchmaker & How to Edit It

Using the Matchmaker Tool: Searching, Sorting, Filtering, & More

Breeds That Have Matchmaker Access
What Is Matchmaker?
Matchmaker is an online tool that enables breeders to easily evaluate and predict inherited disease variants, genetic COI, and traits of a future litter between two intact dogs available in the Embark database. We encourage all users with Breeder profiles to unlock their dog's profiles in the interest of transparency and to enable best practices for informed breeding decisions.
The "Matchmaker" button is located in the Breeder Tools section of your MyEmbark account. The Matchmaker tool allows you to see breeding dogs of the same breed, along with their results (when unlocked) for the health conditions and traits that matter most for your breed.
Matchmaker will also display the average estimated litter genetic COI (Coefficient of Inbreeding) for each potential pair. Different methods of sorting results can be toggled on and off using filters. You can also contact other breeders through the tool. While we recognize that conformation and other factors are involved in making breeding decisions, you can think of Matchmaker as one more tool in your belt!
Accessing Matchmaker
If your dog isn't appearing in Matchmaker, try these steps. My Dog Isn't Showing Up In Matchmaker.
Information Shared in Matchmaker & How to Edit It
Before you begin using Matchmaker, make sure you have accurate and updated information entered about your dogs. Matchmaker includes a wide range of information about your dog and potential matches including eCOI, health, traits, titles, age, average litter size, number of litters, photos, distance, and more.
The information shared in Matchmaker is pulled directly from your dog's profile. Some information populates automatically from a dog's DNA testing results, including health, traits, and eCOI. Other information is entered by the owner, including age, titles, etc. Distance from matches is calculated using the address entered in your Breeder Profile.
To edit the owner-provided information included in an individual dog's Matchmaker profile, start in the Profile section of their Embark results.

Next, click "Edit Profile".

Once on the edit screen, you can scroll through the various sections and add any information you choose to share about your dog; Registered name, titles, age, number of litters, etc.
To Edit the location information that populates the distance filter in Matchmaker, you will need to edit your Breeder Profile. This can be found on your main MyEmbark page under Breeder Tools.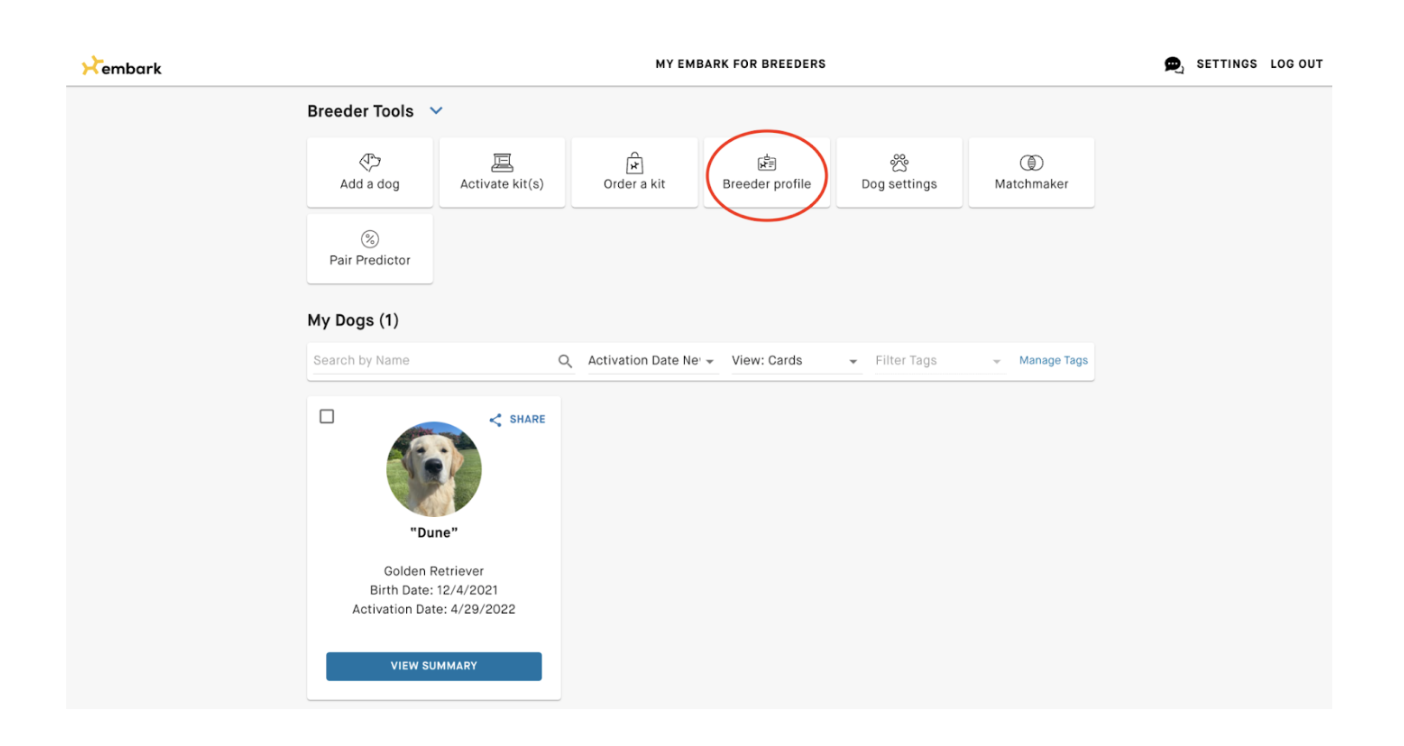 Once you have opened your Breeder profile, add the address associated with your breeding program. Don't forget to click the blue "Submit" button once you are finished!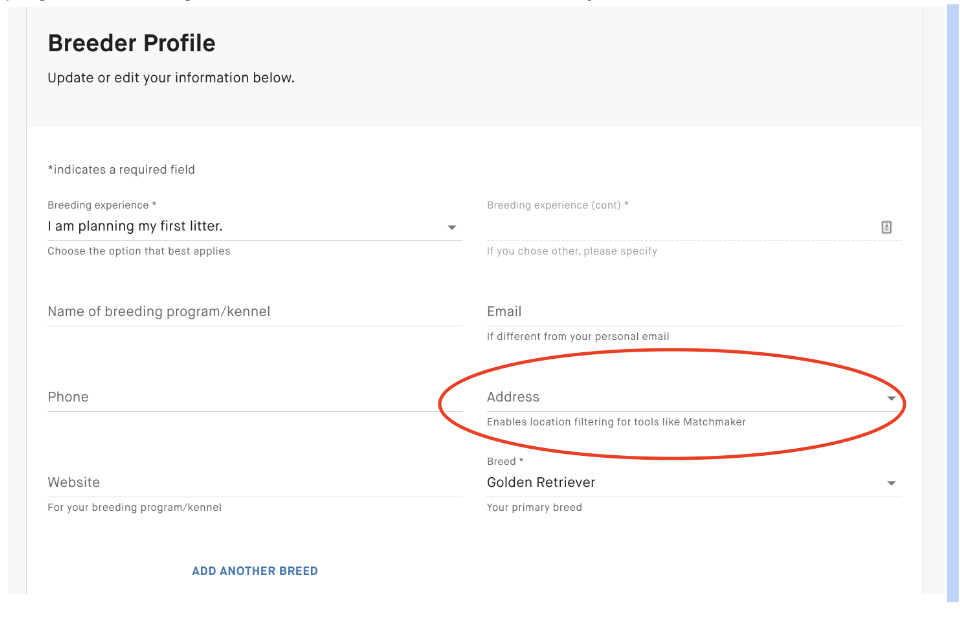 Using the Matchmaker Tool: Searching, Sorting, Filtering, & More
To open Matchmaker, simply log into your MyEmbark account and click the Matchmaker button at the top of the page, listed under Breeder Tools.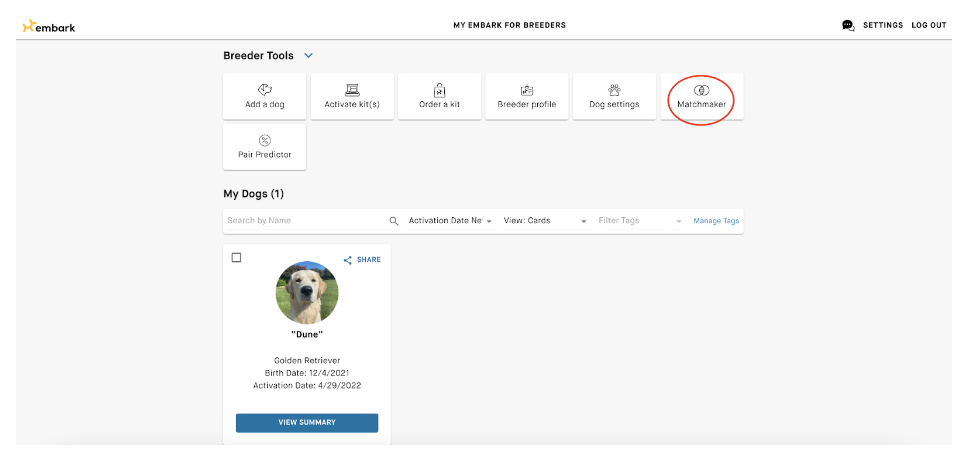 You can also access Matchmaker from the Health page of an individual dog's results. Towards the bottom of the page, you'll find the 'Breeding Tools' section containing the Matchmaker tool.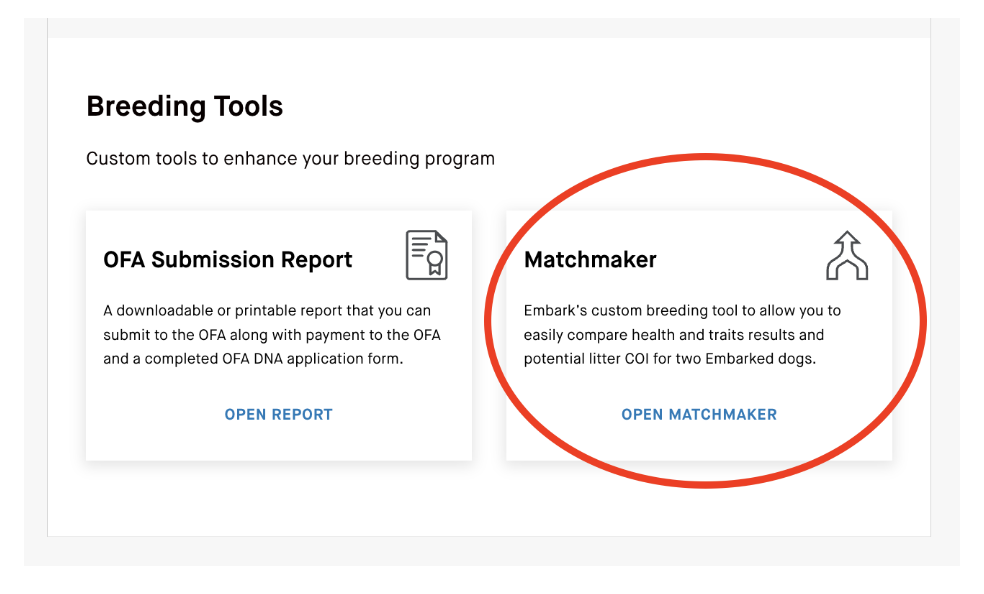 Once you have opened Matchmaker, select your dog of interest from the dropdown in the top right corner.

A list of your dogs will automatically populate the table below. This may take a few minutes to load, especially for breeds with a large number of dogs opted into the tool. You can navigate to another tab in your browser and Matchmaker will continue loading; if you aren't seeing a list, just check back in a few minutes! You will be able to compare your selected dog with dogs of the opposite sex for health conditions, traits, and other parameters (such as distance if a kennel address was provided).
Columns can also be sorted by clicking on the double arrows next to each label. You can use the Filters menu on the left to adjust the results by distance, expected litter COI, dog age, and titles. You can also enter a name into the Search bar to find a specific dog.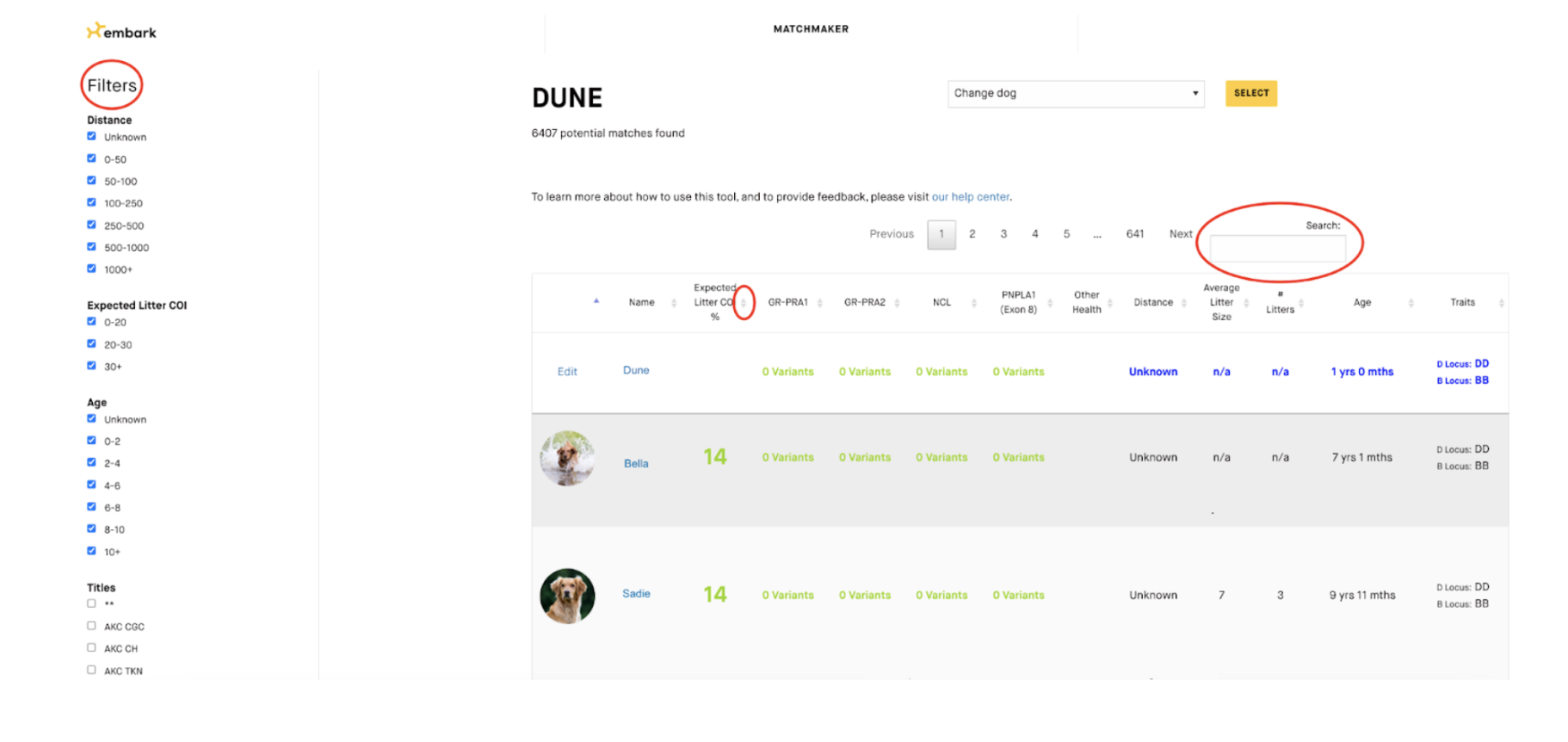 For a targeted comparison, click on a single dog's name. Information such as Expected Litter COI, Relatedness by Chromosome, and Health and Traits comparisons will populate.

Ready to contact a dog's owner or breeder? Click on the dog's name from the main Matchmaker table, then click the yellow "Contact Owner" button!
Have additional questions? Submit a request here to speak with someone about Matchmaker.
Matchmaker is a relatively new tool for Embark and we want it to be helpful for your breeding program. If you have any feedback or ideas on how to improve this tool, please complete this form with your comments: Matchmaker Feedback