Breeders have the ability to select which dogs are included in the Matchmaker feature and adjust the information that is displayed when their dog populates another user's Matchmaker dashboard.
To Edit Information Shared in Matchmaker:
In Breeder Tools, click on 'Dog Settings'.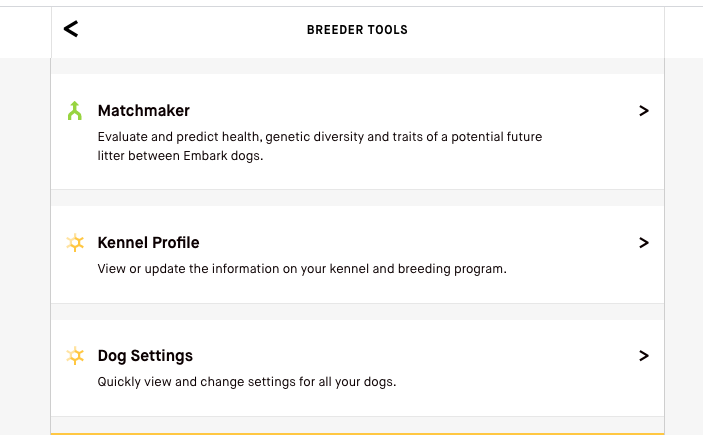 This will bring up a list of all the dogs you've tested and their various privacy settings.
"Included" = Dog will appear in Matchmaker.

"Excluded" = Dog has been opted out and will not appear in Matchmaker
You can also edit privacy settings for each dog's Breed, Health, and Trait results here. This will determine what information is shared when your dog appears in a Matchmaker dashboard search.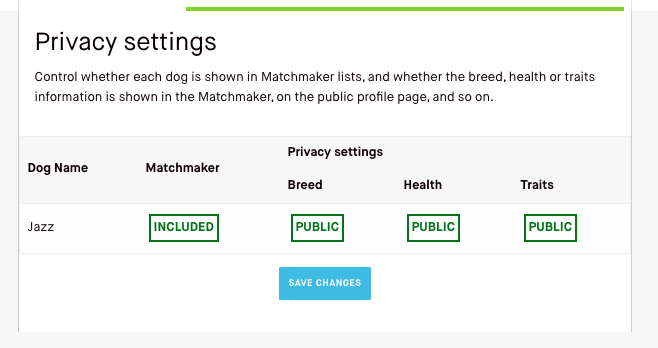 Be sure to click "Save Changes" after making edits.
Seeing something other than Included or Excluded? Check out This Article for troubleshooting tips.
Have additional questions? Simply submit a request here to speak with someone about Matchmaker.
Matchmaker is a relatively new tool for Embark and we want it to be helpful for your breeding program. If you have any feedback or ideas on how to improve this tool, please complete this form with your comments: Matchmaker Feedback