Do relatives appear on the family tree? Which side is mom and which is dad? 
Every family has a story. Starting with your dog, Embark unfolds a story that started over 15,000 years ago when dogs and humans became friends.
Dogs have been our companions for thousands of years. Over that time they have evolved from a single breed into the variety of sizes and shapes we see today. This variety can be traced to differences in the DNA of dogs.
Each dog has his or her own unique DNA fingerprint.
Embark breaks down a dog's lineage in the form of a family tree. This allows you to see which verified breeds are present at the parent, grandparent, and great-grandparent levels. 
Our algorithm analyzes a dog's DNA for the breeds and their likely proportions in the dog's ancestry. Take a look below—or to visit a full sample result, please visit embarkvet.com/dog/harley7.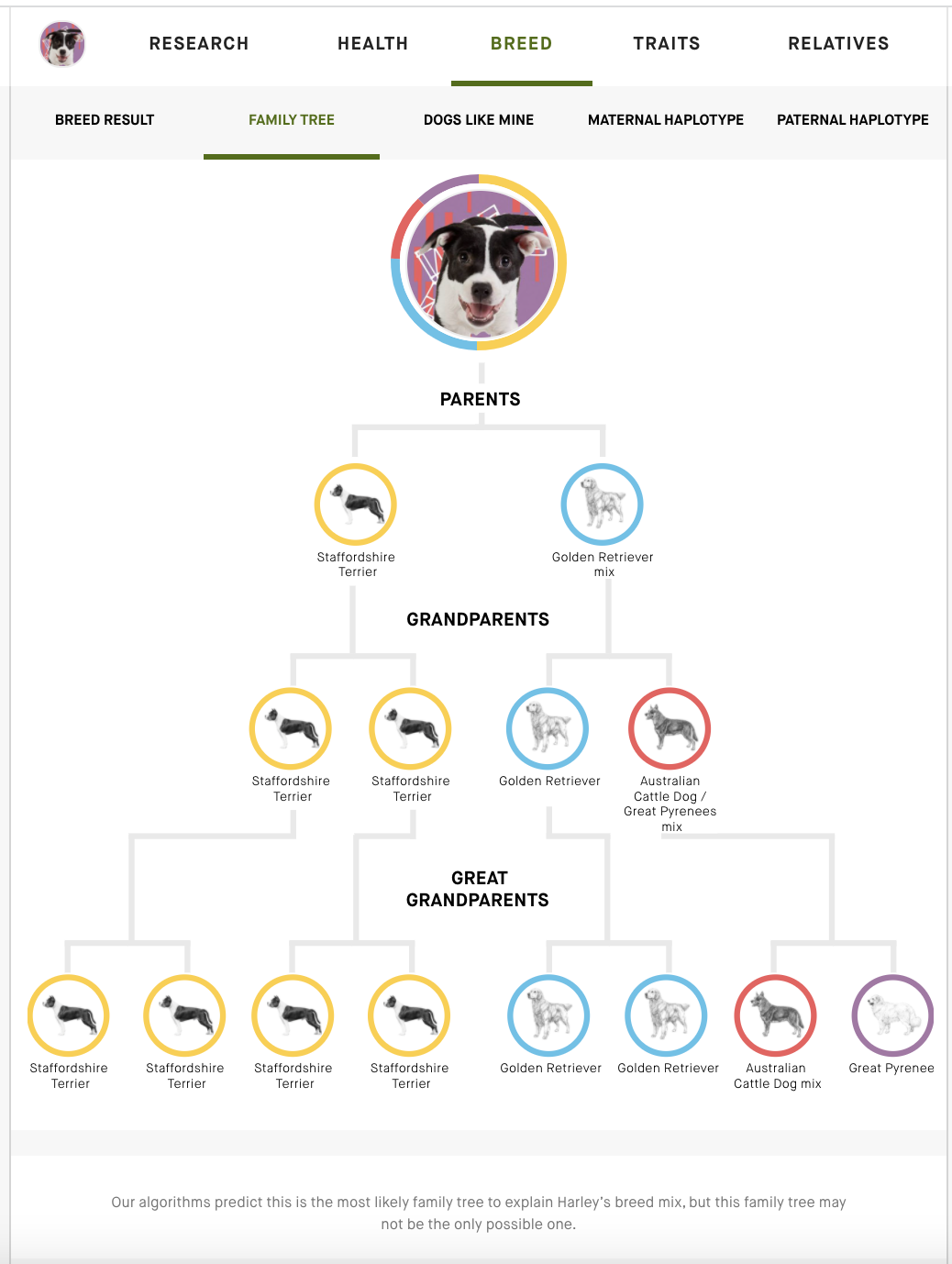 Will the Family Tree show relatives or which side is mom and which side is dad's ancestry?
We are currently not able to determine which side of the family tree is representative of which parent. Part of the reason for this is that this tree is not definitive- while our algorithm predicts this is the most likely family tree to explain your dog's breed mix, there are many ways that any two dogs with the exact same breed and ancestry percentages could have inherited their ancestry. Our family tree feature uses the proportion of ancestry from each breed to assign the most likely simple family tree to your dog given their genetic data. 
If you know your dog's exact three-generation pedigree, please note that the family tree in your dog's Embark profile may not match their registered pedigree exactly, especially in designer breeds (beyond an F1 cross). If your dog's family tree is inconsistent with their known pedigree in some way, you can rest assured that the breed percentages still represent the most accurate estimates of any dog DNA test available today.
This feature shows the most likely breakdown of ancestry going back at least 3 generations. If you're interested in specific dogs that may share ancestry with your dog, check out our Relative Finder!
Have questions? Your MyEmbark account includes information about your dog's sample status, your dog's results, and many other helpful resources. Log in to your account here!