When comparing traits between testing companies, the first step is to make sure you are looking at the same locus). To make sure you know which specific gene we are evaluating, visit your Embark report and go to the Traits page. Here you can find each locus right beside your dog's genetic result for that locus. We also provide detailed genotype information for each trait, so you can see which allele is dominant, and which is recessive–simply click "See Details" for that additional information.
Here is an example:

We test the MC1R gene at the E locus, and at the K locus, we test the CBD103 gene. You can compare these genes to other companies to make sure you are looking at the right trait.
When you click "See Details" beside your results, you can access a more detailed description of each trait. These descriptions clarify which alleles are dominant and recessive and what phenotypes they convey. For example, we can see that this dog above, has two copies of the recessive "e" allele (genotype "ee"), and will be "red" over its entire body. The descriptions on the "See Details" page, explain the other possible genotypes at this locus, any expression rules associated with them, and how they can impact appearance.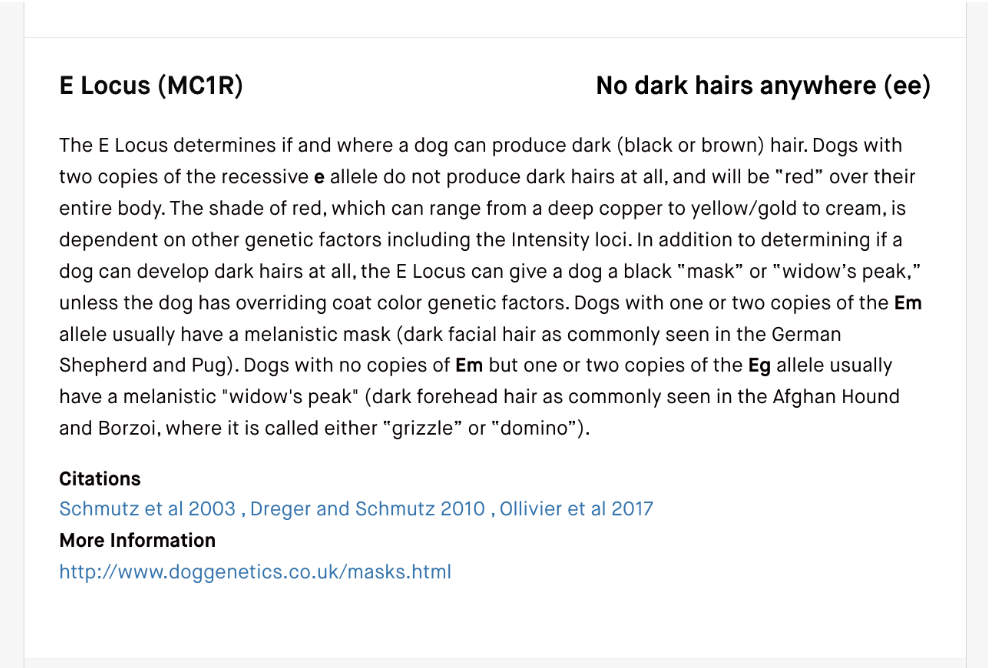 Sometimes different companies will use different nomenclature or letters to represent genotypes for the same traits. You can think of this a little like different countries using different words for the same food - in the United States we call fried potatoes "french fries", but our friends in the UK call them "chips"! These differences in nomenclature do not necessarily mean the traits are different, they are just abbreviated differently–remember, you have to check the genes tested to make sure you are looking at the same trait.
As an example, Embark reports the alleles for white spotting/piebald as "S" (no spotting) and "sp" (white spotting). Another company designates the same white spotting allele at the MIFT gene as "N" (no spotting) and "S" (white spotting). A dog with the genotype of "spsp" at Embark is the same as a dog with a genotype of "SS" at the other company, both having two alleles for white spotting/piebald, they are just written out differently.
Have questions about interpreting your dog's traits? We are here to help! Contact Us --Our Results Specialists are always excited to answer your questions. 
Have questions? Your MyEmbark account includes information about your dog's sample status, your dog's results, and many other helpful resources. Log in to your account here! 
Related Articles